Watch out Bangkok Post, Thaindian is coming!
Thu, Feb 7, 2008 Tweet Vote on HN
On 4th Feb,
thaindian.com
(BLUE) got a surge in traffic effectively kicking ass of other major news portals/forums.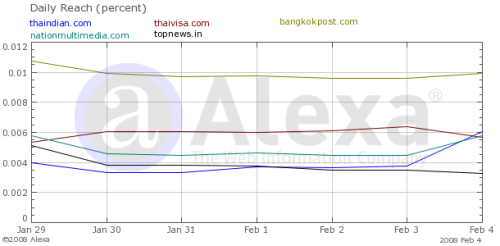 Sites overtaken.
Topnews.in (BLACK): An Indian news website posting stories of similar nature as on thaindian.com
Nationmultimedia.com (GREENISH): The website of the second biggest English Daily in Thailand
Thaivisa.com (RED): The largest expat community in the world. Comprised of expats in Thailand.
Sites yet to overtake
Bangkokpost.com (YELLOWISH): Website of the largest English daily in Thailand. Often links to their news stories dies and gives error on stories a few days old. Wonder why doesnt Google see this and kick them in their ass for this behavour.
We thank our active user base for their participation, none of this would be possible without them visiting our site. Edit 9th Feb 2008 :
Short lived glory... now alexa shows thaindian.com was never on top :(